After news broke in Ghana in various outlet that the Ghana card has been accepted as an E-Passport by the International Civil Aviation Organisation-ICAO, Loud Silence Media led by Kevin Taylor took a step further to independently verify if these claims fuelled by Government and its propaganda media houses are telling the truth.
According to the earlier report, the delegation which went to the ICAO headquarters in Montreal was led by the High Commissioner of Ghana to Canada Ransford Sowah and officials from the office of Bawumia precisely his Secretary Augustine Blay among other folks from the NIA.
After our news team read this news, An email was officially sent to the Canadian based Organisation to verify the claims that Ghana Card has been accepted by ICAO as E-Passport.
Even before the full content of our email is shared below, the deputy minister of the Foreign Affairs ministry Kwaku Apratwum Sarpong had earlier denied any of such claims stating in an interview with Kumasi based Akoma fm that his ministry had no idea of where such a news was coming from.
The deputy minister who is also the member of Parliament for Mampong in the Ashanti region said to the best of his knowledge, Ghana Card has not been accepted by any organisation as an e-passport.
He said on the show "The report is not emanating from ministry, hence officially I cannot confirm Ghana card is e-passport"
The content of our mail to the ICAO is captured below.
In the email, we asked 3 simple yet important questions which has since been responded by the Communication directorate of the ICAO.
The questions are;
1. Had ICAO sanctioned Ghana Card to acquire a visa ?
2.How will the process be done and which airports have been sanctioned to accept the Ghana card as an electronic passport ?
3.Has the ICAO officially announced that one can simply embark on a flight to Ghana by simply showing Ghana card ?
Oh Email was swiftly attended to and in the ICAO's reply, The Ghana Card has not in anyway been accepted as an E-Passport.
Below is the reply to our mail. The response came from Mr. William Raillant Clark who is the Communication officer at the office of the Secretary General of the ICAO.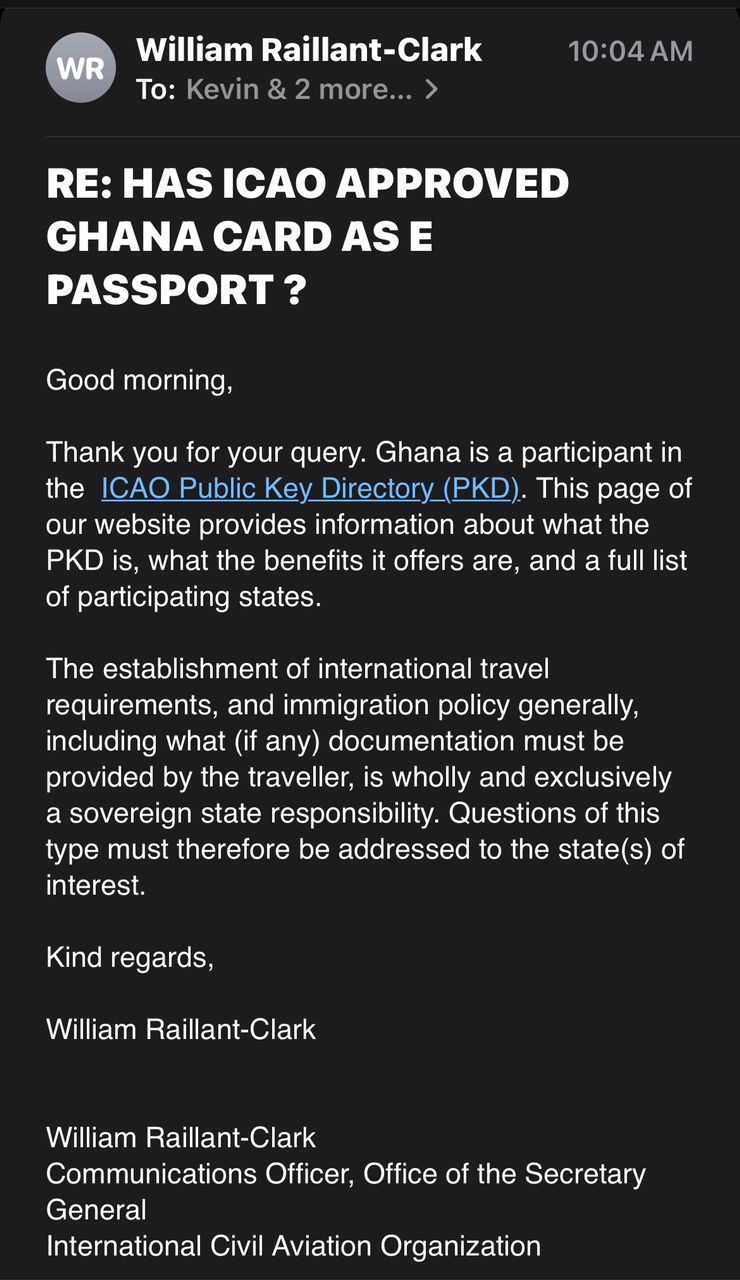 This clearly shows this is yet another lies being propagated by Akufo Addo and his brigade of paid liars to give a little hope to the debt image of his vice Bawumia.