The National Media Commission going by its Constitutional mandate is mandated to be an independent body.
Unfortunately, Yaw Boadu Ayeboafoh who is currently the chairman of the NMC has succeeded in converting the NMC into an NPP annex.
A current report filed by Citi FM suggests that Yaw Boadu Ayeboafoh through NMC has directed Accra-based Power FM to retract some comments a presenter is believed to have made about the wife of Vice President Bawumia.
That is an absolute absurdity on the part of the NMC because there are countless occasions NPP-affiliated media houses made disparaging remarks about the NDC's John Mahama amongst others.
Notably, before the 2020 general elections, the Ashanti regional chairman of the NPP Bernard Antwi Bosiako popularly referred to us as Wontumi, ridiculed an astute woman like Professor Naana Jane Opoku Agyemang, saying she looked like a witch.
Yaw Boadu Ayeboafoh and his NMC didn't see the wisdom in rebuking Wontumi and equally threatening a sanction against his media house.
Yaw Boadu Ayeboafoh is greedy, he is doing everything to protect a failed regime because of his personal gains from the NPP Government.
Apart from being the NMC chairman, he is also the owner of Rostella Guest House and Food Services, a company that supplies food to Senior High Schools in the country, under a rather opaque order.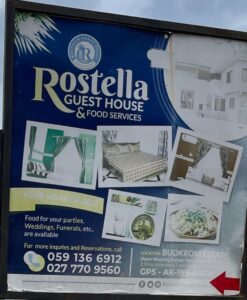 In many instances, the bag of rice Yaw Boadu Ayeboafoh's Company supplies as food to SHS falls short of the required quantity.
This goes to say that Yaw Boadu Ayeboafoh is not an independent-minded individual at the National Media Commission as he is required by law to be.
He is a direct beneficiary of a rotten regime and he has several government contracts awarded to his name.
We have done an exclusive exposè on the grand scheme Yaw Osei Adutwum is supervising as the education minister when it comes to supplying food to various Senior High schools in Ghana.
Our portal is therefore daring Yaw Boadu Ayeboafoh to come out and deny that he does not hide behind Rostella Guesthouse and Food Services to supply food to senior high schools in Ghana under a none non-transparent contract.