Kofi Ofosu Nkansah a known poodle of Vice President Bawumia has descended on a UTV Journalist for saying Dr. Bawumia has no credibility.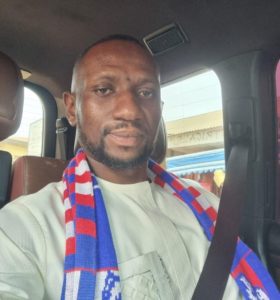 Kofi Ofosu Nkansah who is the CEO of NEIP(National Entrepreneurship and Innovation Program) took to his Facebook page to call the UTV Morning show host "Kuraseni Journalist" before eventually pulling down the post.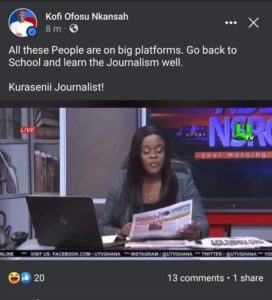 The journalist who was reading the headlines on her show had picked a paper whose headline suggested Dr. Bawumia asking delegates to vote for him in the NPP primaries because he had already defeated NDC's John Mahama paused and reacted that Dr. Bawumia has no credibility to suggest he defeated John Mahama and the NDC twice.
This obviously didn't go down well with Kofi Ofosu Nkansah who is widely known for his verbal attack on anyone who questions Bawumia's competency to go after the UTV host.
Kofi Ofosu Nkansah is nurturing the ambition of going to parliament on the ticket of the NPP with the support of Dr. Bawumia.