President Akufo Addo is currently attending the US-Africa Summit in Washington DC.
Interestingly, he did not travel with his mystery Golden chair.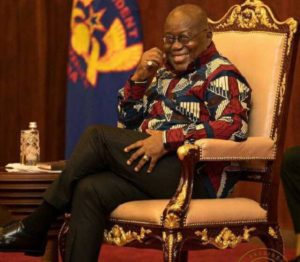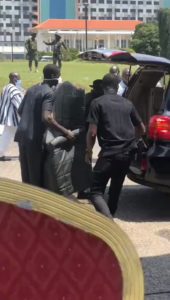 For whatever reason, Akufo Addo the President of Ghana has consistently traveled with his chair anytime he's traveling within Ghana.
A whole Toyota Landcruiser V8 has been dedicated to carrying the chair.
A picture of him being offered a coffee shop chair while waiting to speak at the US-Africa Summit has surfaced on the internet.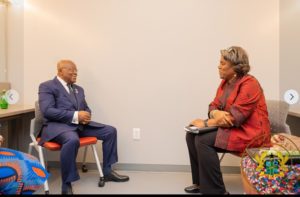 This raises questions about how pathetic Akufo Addo could be. If it is not wrong to sit on a fast food joint chair while outside the Country, why waste thousands of cedis carrying his golden chair around when he's traveling within Ghana?
His profligate lifestyle has led to the crash of the Ghanaian economy.
An economy that was handed to him to appoint over 120 ministers is now in the ditch waiting for revival from the IMF.
Even though there has been an announced staff-level agreement between his government and the IMF reps to Ghana, the damage Akufo Addo and Bawumia have caused Ghana is too deep to be corrected with the 3 billion dollars they are hoping to get from IMF.
Carrying his golden chair around has not been the only reckless conduct of Akufo Addo.
He has consistently abandoned Ghana's Presidential jet to fly in luxury planes.
As though that is not terrible enough, a whopping 400 million dollars of the taxpayer's money has been dedicated to the construction of a senseless cathedral.