Loud Silence Media have in our possession documents at Ghana's National Petroleum Authority and Ghana Revenue Authority exposing how Government appointees are helping Oil Marketing Companies to dupe the country of taxes.
The NPA under the leadership of Mustapha Abdul Hamid and the GRA under the supervision of Ammishaddai Owusu Ansah knows everything about the document uploaded below.
Before Election 2020, Loud Silence Media Team of investigators went undercover to expose a tall list of some Oil Marketing Companies heavily indebted to the NPA.
The boss of the NPA at the time Hassan Tampuli made sure most of Oil Marketing Companies did not pay the right taxes and those monies went to individual pockets rather than Ghana.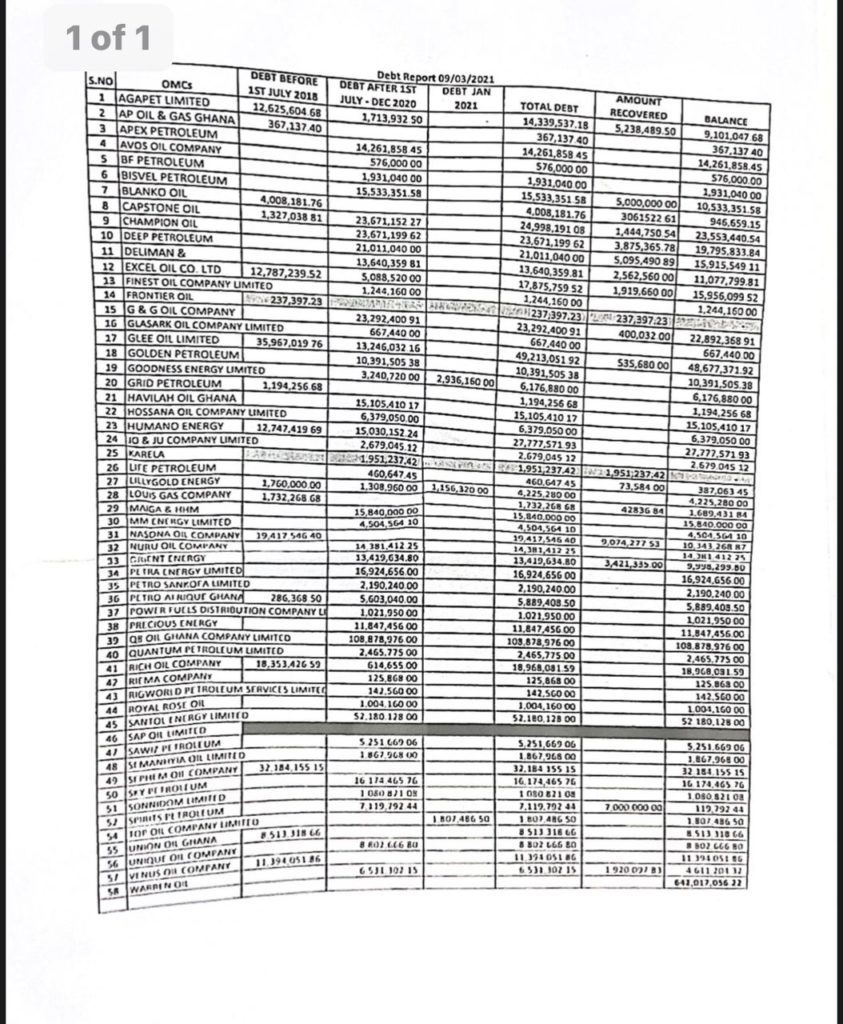 The Auditor General After doing its work directed the NPA and GRA to publish these companies owing Ghana but that has never happened under the new leadership of both the NPA and GRA because most of the above listed companies are owned by persons close to appointing authorities in the NPP Government led by Akufo Addo the President.
The NPA and the GRA are watching on for these same Companies owing Ghana in taxes to lift petroleum products which are above their bank guarantees and insurance which should never be the case as such conducts are criminal according to the petroleum industry laws and regulations.
What Mustapha Hamid is supervising at the NPA as we speak is that, he in collaboration with Ammishaddai Owusu Ansah the GRA boss are allowing companies who have exceeded their bank guarantees to re-register as different OMCs so just to be able to continue lifting fuels without paying what they already owe Ghana in taxes.
For instance as we speak, the NPA are in court with an OMC known as Apex Petroleum over tax evasion in sum of 10 million cedis.
Note that, there are dozens of companies owing far more than what Apex company owes NPA and GRA which has been directed by Mustapha Hamid and Ammishaddai Owusu Ansah to rebrand and register as new companies so they can continue their illegal business.
Now, it is only after the matter between NPA and Apex Petroleum has been sent to court that it was revealed that the very Bank Guarantee documents Apex Petroleum submitted before lifting oil as an OMC was a fake one which even belongs to Star Assurance.
The instance is just a minute case of the rots which goes on at NPA. A lot more companies which are still allowed to operate as OMCs are owing taxes with many lifting fuels which exceeds their Bank Guarantee just as the case of Apex Petroleum.
In the month of October 2021 alone, NPAs data showed the total litres of oil Major OMCs lifted.
It is shocking to note that, some "mushroom" OMCs owned by persons at the Jubilee House are lifting almost same capacity of oils as established OMCs like Goil, Shell and Total when their outlets are not even up to 20 Nationwide.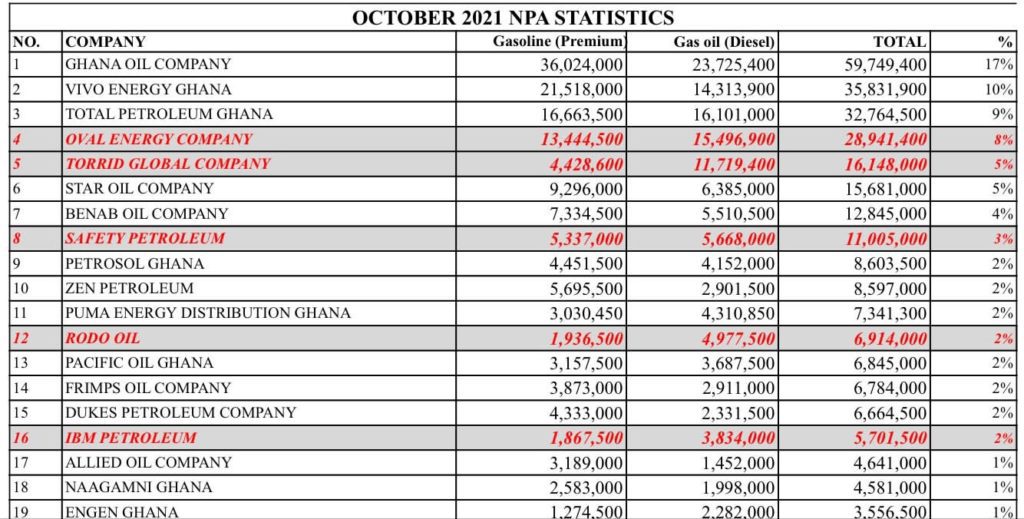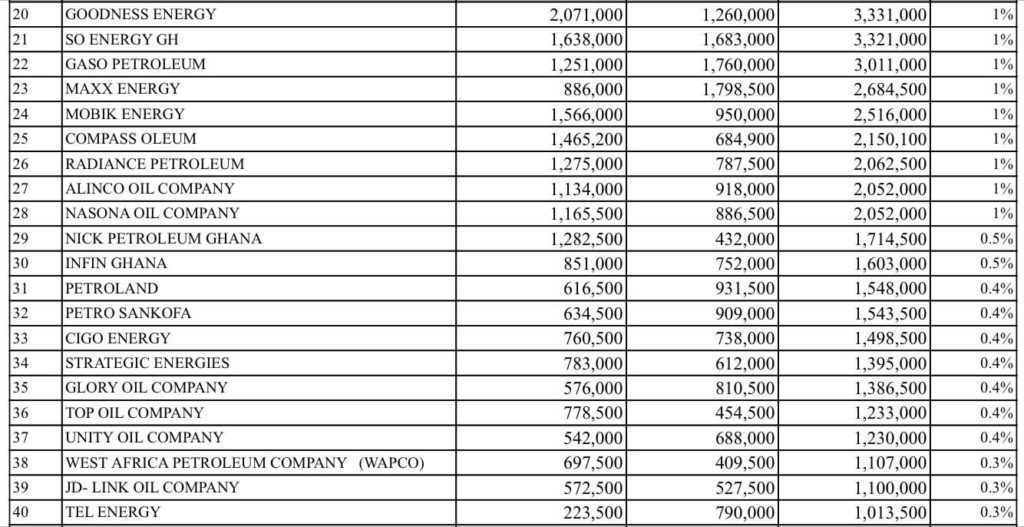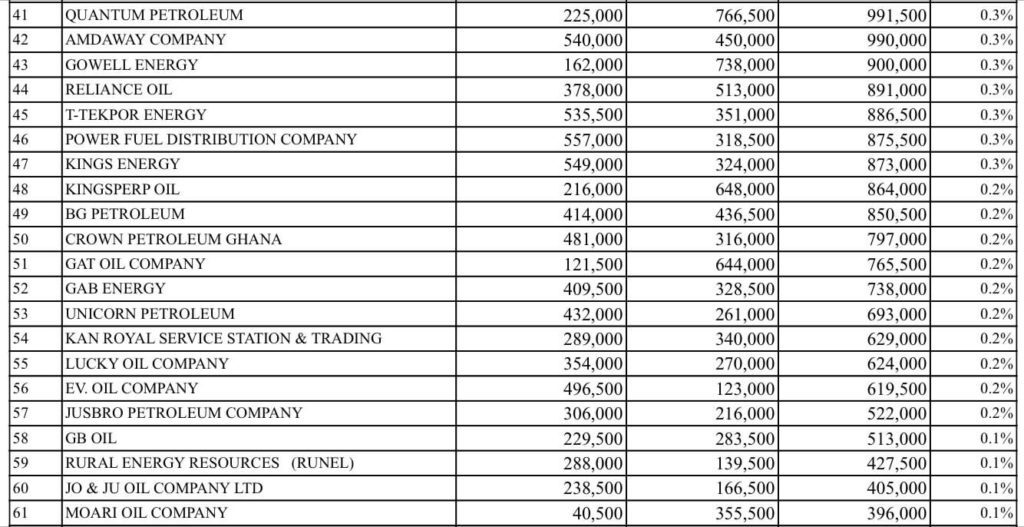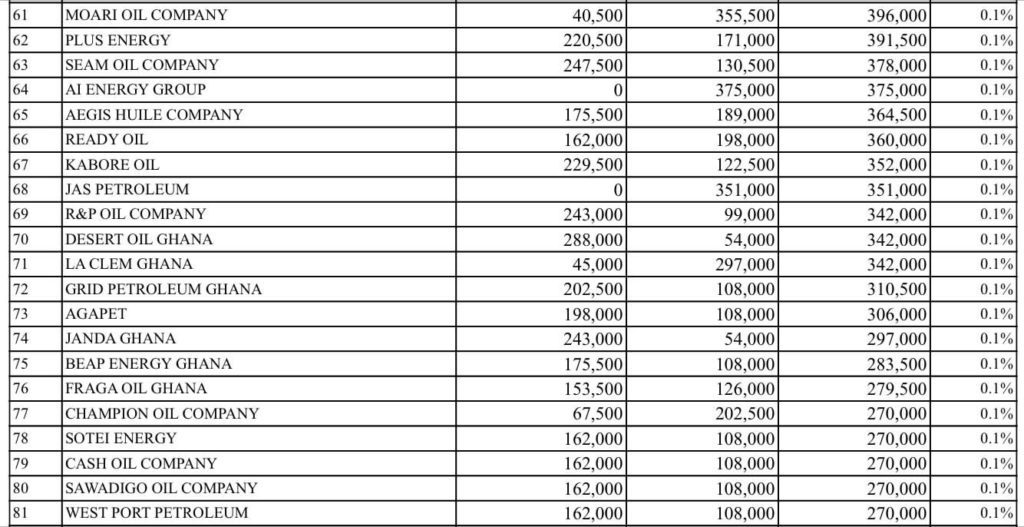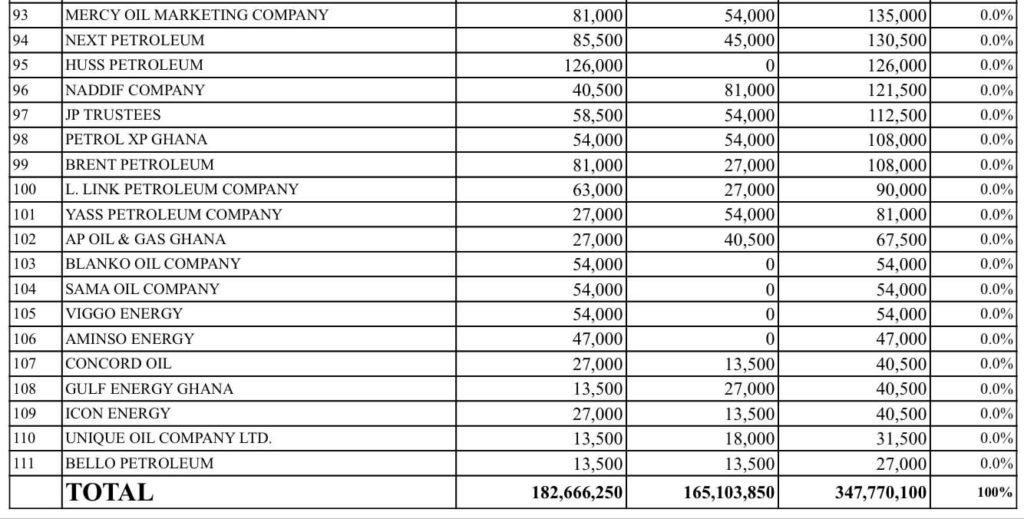 The question then is, who are those distributions outlets the highlighted OMCs supply their fuels to and where does the OMCs highlighted in red ink above supply their Oils when they have limited distribution outlets?.
This clandestine move at NPA exposes the Oil black Market being operated in Ghana under the watch of Mustapha Hamid where OMCs which have no such capacity to lift those litres of oil lift these oils and sell them to fuel stations which are not duly registered and even transport chunk to neighboring West African countries.
Some of the Oils ends up crossing Borders to other neighboring West African Countries without Ghana getting the requisite taxes from their dealings.
These are companies Mustapha Hamid the NPA boss and Ammishaddai Owusu Ansah the GRA boss knows have no such capacities to be uplifting those outrageous litres of fuel yet they grant them that luxury even when they are not paying the right taxes.
It is a cartel they are operating at the expense of the Ghanaian taxpayer, worst of it they want to over burden Ghanaians with e-levy when they could simply block these deliberate leakages in the system to save money.
This is just part of our findings, the next part will reveal who are those behind these companies as owners and how much they are currently owing the NPA and GRA in taxes and why they are still allowed to operate.
The video of the editorial is duly captured below.