The NPP is organising its constituencies executive elections and it has been met with widespread violence and display of thuggery as it was expected.
One of the flash point in the polls within the Greater Accra region is the Okaikoi South Constituency.
Right from the word go, there was mass confusion even before the polls began.
The Ghana Police Service says it has arrested two individuals, who posed as police officers at the voting grounds of the Okaikoi South NPP constituency elections.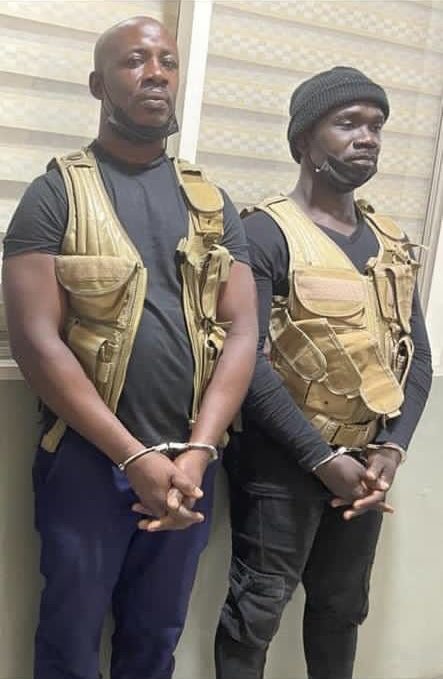 The two, whose names were given as John Essel Bath and Enock Kwame Bosompem, were spotted at the Prince of Peace School compound at Bububiashie where the elections was taking place.
A statement signed by the Director-General in charge of Public Affairs, DCOP Kwesi Ofori, said the two who have been arrested are currently in custody and assisting with ongoing investigations.
The Police have arrested two persons who showed up at the ongoing NPP Constituency Executive Elections wearing clothing that created the impression that they were police personnel."
The two suspects John Essel Bath and Enock Kwame Bosompem were spotted on Thursday, April 28 2022 at the Okaikoi South Constituency where the voting was taking place"
"We would like to emphatically state that the two suspects are not police officers. Meanwhile, they are in custody as investigations continue" the statement added.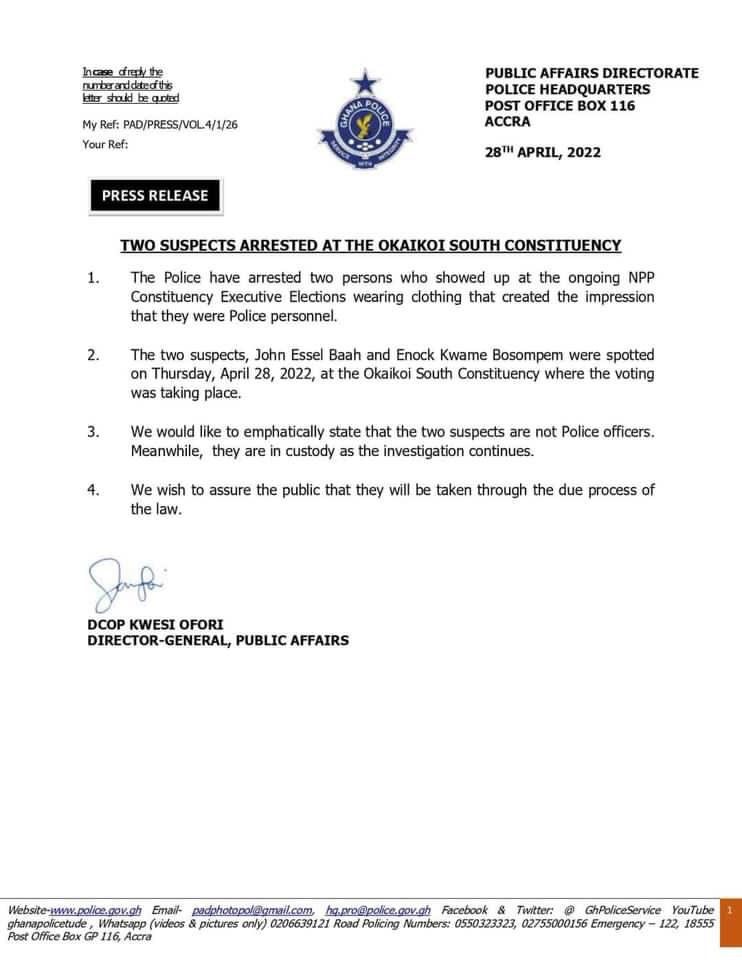 These two are suspected to be part of the criminals the NPP used in causing mayhem at Ayawaso West By-Elections who saw the deployment of masked criminals in security uniforms to shot at unarmed Civilians leading to the fracturing of peoples legs.
They are also part of the gang of criminals the NPP clandestinely used during the election 2020 to kill civilians to turn the results in their favour notably at Techiman South, Savelugu and Odododiodio constituencies respectively.
In the 2020 elections for instance, some 8 Ghanaians were killed by Akufo Addo led Government to retain power.
Among them were minors who at the time of their untimely death did not qualify as voters.
The public wait to see what will be become of this arrest since a lot more arrest have been made in the past since Akufo Addo took over but the matter never got anywhere.