The Drive of Kobby Okyere Darko Mensah who is the western regional minister and also the Member of Parliament for Takoradi is said to have bolted with an estimated 17 million cedis belonging to the minister.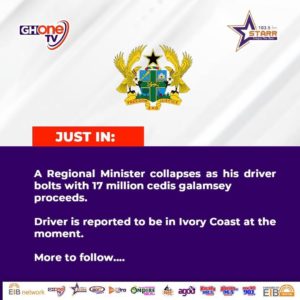 The money is said to be proceeds from Galamsey activities.
In a news flash by EIB's Ghone Tv, the driver was tasked to move the money meant to be disturbed between the Minister and Jubilee House to the private residence of the Minister but the driver ended up running away with the money to Ghana's neighboring country to the west Ivory Coast.
Upon hearing the news, the said minister was said to have collapsed and rushed to the hospital where he is currently on admission receiving treatment.
It's one of the news items which has dominated discussion on social media with many people sharing the views on the matter.
On the same story, Just a few days ago, a local chief at Dompim a community closer to Tarkwa in the western region named Hon.Kobby Okyere Darko who is the western regional minister and MP for Takoradi as one of the key Galamsey kingpins in the region.
In reaction to this new flash of Ghone Tv, the Western Regional minister has responded to the new flash of his alleged involvement in the issue.
In his response, he said the story of course came from his detractors and maintained he is well and unfazed by what he described as untruth.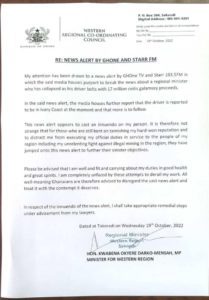 What the minister failed to do in his response was to address the substantive issue of weather or not his drive has absconded with such an amount or not.
When Ghone Tv shared the flyer of the news flash, they never mentioned the name of the minister.
The western region is just one of the 4 regions which share a border with the Ivory Coast.
Other regions include Western North, Bono, and Ahafo regions.
It is however surprising the western regional minister is out reacting to a story that never stated his name.