The Mayor of Worcester Mr. Joe Petty has stated categorically that he would not be attending a Town Hall meeting organized by some Ghanaians in Worcester who have affiliations with the ruling NPP Government back in Ghana in Honour of Kennedy Agyapong.
In a widely shared event flyer announcing the event, Mr Kennedy Agyapong who is the MP for Assin Central in Ghana was scheduled to be in a Town Hall meeting being organized by some Ghanaians in Worcester.
The event which was to take place African Community and Cultural center according to the flyer was going to be a question an answer event with Ken Agyapong as the Chairman.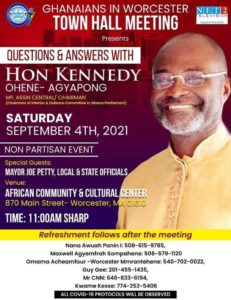 On the supposed event flyer, Mayor Joe Petty was mentioned as a Special Guest.
Following the publicity, Mr Kevin Taylor host of "With All Due Respect" on Loud Silence Television officially wrote to the Mayor of Worcester detailing why it will be a very bad move to attend an event with Kennedy Agyapong who for years has been caught in the web of suspected crimes in Ghana.
Kennedy Agyapong cannot exonerate himself from the gruesome murder of Ahmed Suale a Ghanaian  investigative Journalist who worked with Tiger Eye PI before his murder on 16th January 2019 after going undercover to expose the corrupt nature of Kwasi Nyantakyi who at the time was the President of Ghana Football Association.
Kennedy Agyapong went all out and thus showed pictures of Ahmed Suale on his Net 2 Television and stated emphatically that whoever come across him can harm him.
Few weeks doing this, Ahmed Suale was tracked and shot to death by unknown gunmen in Madina a suburb of Accra.
As that wasn't enough, Mr Agyapong has also threatened another journalist named Erastus Asare Donkor who works with Luv Fm in Kumasi-Ghana.
It was due to these that Kevin Taylor drew the attention of the Mayor to why it will be a bad move to for him to honor a program Kennedy Agyapong will also be attending.
The Mayor through his Chief of Staff wrote back to Mr Taylor stating, he will not be honoring the invitation for the program.