The Ghanaian constitution is clear on a person who can dream to become President.
One of the important attributes of that person is for him or her to be of sound mind.
However, with the NPP set to have a new leader for the 2024 elections, a lot of faces have shown up as people who want to lead the party.
One of those who has announced his intent is the Member of Parliament for Assin Central Kennedy Agyapong.
The New Patriotic Party(NPP) will need a new face for the 2024 elections since President Akufo Addo has exhausted his constitutionally mandated tenure.
So far, people within the party who believe they have what it takes for the Party's Flagbearer have made their intentions clear to contest when nominations are opened.
Names such as Vice President Bawumia, Trade Minister Alan Kyeremanten, Agric Minister Dr. Owusu Afriyie Akoto, Boakye Agyarko, Joe Ghartey, etc are all in pole positions to contest when nominations are opened.
However, In the last few days, the name of Assin Central Member of Parliament Kennedy Ohene Agyapong has also appeared as someone who would contest to become the new face of the NPP.
At a point, it appeared as a joke but it is gathering momentum as the days go by.
Kennedy Agyapong who is currently in the USA going for medical review after Doctors opened his skull to correct a few things in there granted an interview stating his commitment to run for President and continue the legacies of Akufo Addo.
Kennedy Agyapong became a member of parliament for the people of Assin Central constituency in the central region in 2008 and has remained and has remained as an MP for over 2 decades.
As someone who is so lousy about wealth and how he did not join politics for personal gains, the expectation was that at least the Assin Central constituency will stand out in terms of development and becomes a point of call on issues of development.
Unfortunately, that has not been the case. After serving for over 20 years as an MP, the constituency lacks basic things such as decent schools, clinics, and even roads.
One can argue that Members of Parliament are elected to enact laws. But judging from how a third world country Ghana is Members of parliament are elected to perform multitasking Which predominately has to do with being development agents and making sure they bring transformation to the areas they represent.
Kennedy Agyapong has failed on that front and a tour in his Assin Central Constituency depicts abject poverty, underdevelopment, and above all unbearable hardship.
He has gained notoriety as that unscrupulous lawless member of parliament whose hands are tainted with an avalanche of crimes and bad deeds.
In 2012, while his party the NPP was in opposition, Kennedy Agyapong declared war on Ewes and GA stating Akans should kill Ewes and GA because they are not going to vote for the NPP-led by Akufo Addo at the time.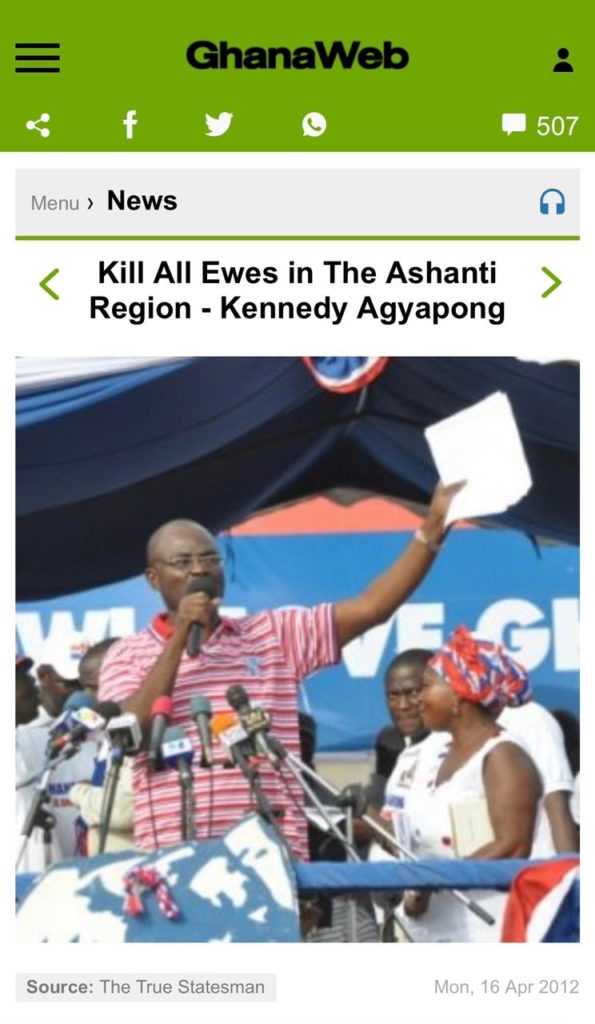 From that point, he has always been in the news for the wrong reasons.
If it's not about how wealthy he claims to be, then it's he verbally attacking people who disagree with him.
Kennedy has shown extreme hatred towards other tribes to the extent of declaring war on Ewes.
He was reported to have said Moslems in his constituency are fools because they do not vote for him so he will never attend to their needs as their member of parliament.
June 6th, 2018 however marked the beginning of how treacherous Kennedy Agyapong is.
Investigative Journalist Anas Aremeyaw Anas and his tiger eye P. I had released an investigative piece on corruption in Ghana football.
The President of the Ghana Football Association, Kwasi Nyantakyi was caught on tape taking a bribe and making some damning comments as to how President Akufo Addo together with His Vice President Bawumia was in his pocket.
Among the things Nyantakyi said in the video was how he could buy the President as low as 3 million dollars because President Akufo Addo was broke after spending fortunes on his political journey to become President.
It was arguably the biggest story to have hit Ghana and the African football front because Kwasi Nyantakyi was not only influential in Ghana but he was an integral part of CAF and even FIFA.
Pressure mounted not only on Nyantakyi but the people he mentioned in the video which includes President Akufo Addo and Dr. Bawumia the Vice President.
Kennedy Agyapong even before the full documentary was released went "Mad" saying Anas and his tiger eye team were a corrupt bunch of people and that the documentary was targeted at President Akufo Addo and his Npp government.
He began what he claimed was also an expose on Anas and his team while maintaining that he was an anti-corruption crusader.
Nobody knew Anas or any member of his team because of how dangerous their job as investigative journalists were, they always conceal their identity.
Kennedy Agyapong went all over the place, from media house to media house claiming he was going to expose Anas.
He showed a picture of Ahmed Suale on his Net 2 Television asking viewers to harm Suale who was a member of tiger eye and did the Number 12 documentary.
Kennedy Agyapong placed a bounty on the head of Ahmed Suale, by stating categorically that people should harm Ahmed Suale and he was prepared to pay any amount that will come with it.
He tasked his media outlet to be on the look to beat the hell out of Ahmed Suale anytime they see him anywhere close to their premise.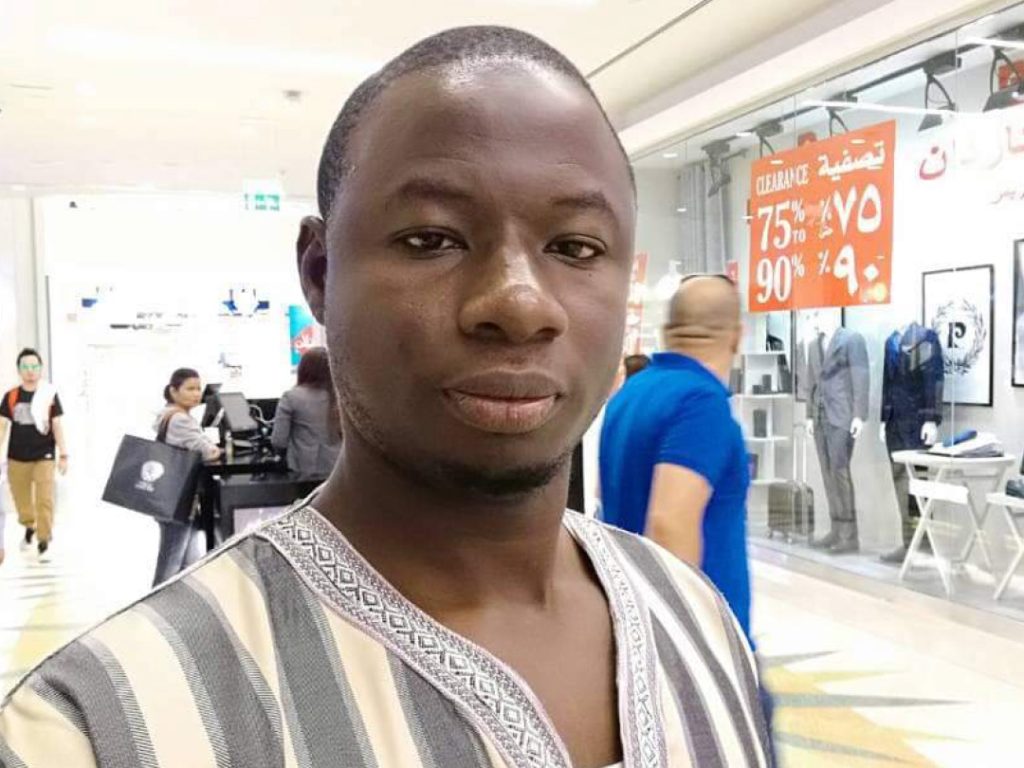 After showing Ahmed Suale's pictures and revealing his identity and asking that he should be harmed, the worst happened, Ahmed Suale was gruesomely murdered in cold blood on January 16th, 2019 barely 7 months after the Number 12 documentary.
To date, the killers of Ahmed Suale are still not yet found because it was a well-executed plan by people in the Government of Akufo Addo which Kennedy Agyapong is included.
But even before this sad development, a sitting member of parliament for Abuakwa North Joseph Boakye Danquah-Adu was murdered on February 9th, 2016.
The lead suspect who was arrested in connection to the murder of the former MP has admitted that Kennedy Agyapong was part of the people who hired him to kill JB Danquah.
The video of that confession has since gone viral for years now.
Kennedy Agyapong seems to be above the laws of Ghana.
So far, none of the terrible things he has done has led to even the Ghana Police Service inviting him for questioning under Akufo Addo.
He is equally on record to have insulted a judge calling him "Foolish and Stupid" on some land issue.
The judiciary led by Chief Justice Anin Yeboah cares not about Kennedy's constant attack and denigration of the judiciary.
Same Kennedy Agyapong charged NPP supporters to be prepared to burn down the house of former President John Mahama in 2020 after the elections as he claimed Mahama was the brain behind the frequent fire outbreak in Ghanaian local markets.
Even though the game plan of Kennedy Agyapong is to use these calculated tactics of him contesting to become NPP flagbearer to blackmail Akufo Addo who wants Bawumia to succeed him, it is equally important we remind ourselves how dangerous a person Kennedy Agyapong is.
The number of allegations around him is enormous.
It is however shocking that someone like Kennedy Agyapong would have a few lowlife individuals rooting for him to lead the NPP to become flagbeaer and thus President.
It is true that the NPP as it stands has no reasonable person to take charge of the party. Dr. Bawumia's integrity has been dented, today a toddler on a Ghanaian streets would not blink an eye before knowing that Bawumia is a liar.
Alan Cash on the other hand don't seem to have the balls enough to cart his own path.
Kennedy Agyapong is an opportunist, whose aim of holding onto to power is to make wealth so he can take care of his over 20 children living abroad.
He is of course never going to be President because there are too many cobwebs in his closet.
Aside not being an intelligent person, the mere fact that Kennedy Agyapong is also harbouring the feeling of becoming a President is an insult to everything Ghana is known for.
The NPP might have succeeded with their trick in recruiting and positioning tribal bigots as journalists as Public Relation experts for Akufo Addo but not this time.
The game plan is to use this position of he contesting to hold the government to a ransom where he will make enough money from the government through shady deals before they exit power in 2025 all things being equal.
Kennedy Agyapong knows he's a candidate for jail for the many terrible things he has done which highly includes playing a part in the gruesome murder of Ahmed Suale.
Nemesis will truly catch up with him and his foolish bravado will eventually come to an end just as every regime in history came to and end.
For Kennedy, I am not God and I do not intend to be but his end will be extremely awful because he has committed just too many crimes against humanity that even if he repents from his evil ways, Nature will pay him back in his own coin.