Some concerned workers of Ghana Industrial Holding Corporation(Ghihoc) has leveled some allegations against their Managing Director Maxwell Kofi Jumah.
Mr Jumah was appointed to lead Ghihoc after there was change of government in 2016 elections.
He was eventually appointed by President Akufo Addo to be the managing director of the state owned beverage company.
The letter released by the concerned workers suggest that when Mr. Kofi Jumah took over as the Managing Director of the state company, they were of hope that he was going to manage the company to a level workers and management would be happy about.
He enjoyed some goodwill for the first year as their MD, but things began collapsing under his watch as the head of the company.
All attempt to have him change his ways for the smooth running of the company has been met with threat of dismissal, victimization among others.
Among the things they have accused him of doing is changing the Security Company in Charge of providing security to Ghihoc Distillery to another one.
This move the concerned workers have said was an attempt to make security at the factory porous for goods of the company to be smuggled out by the Manaing Director; Kofi Jumah and his cronies he brought along when he was appointed.
They stated in their letter that, products from the company in thousands of cedis has been stolen and kept in private warehouses in Kumasi with close connections to Kofi Jumah.
The workers stated, Mr Kofi Jumah is above his retiring age, at age 71 he is not supposed to be serving in the public sector but because he is connected to the Chief of Staff Frema Opare as a brother, you dare not critic his actions in the company.
He has converted the state company into a family affair to the extent of his son driving company's car for his private business while he is not a worker of the company.
On promotion, the workers alleged Sex for promotion claims as they stated in the letter that some female staff of the company have been promoted unduly to top ranks they do not deserve simply because they have been warming the beds of top management members.
The other details of the letter is capture in the full release below.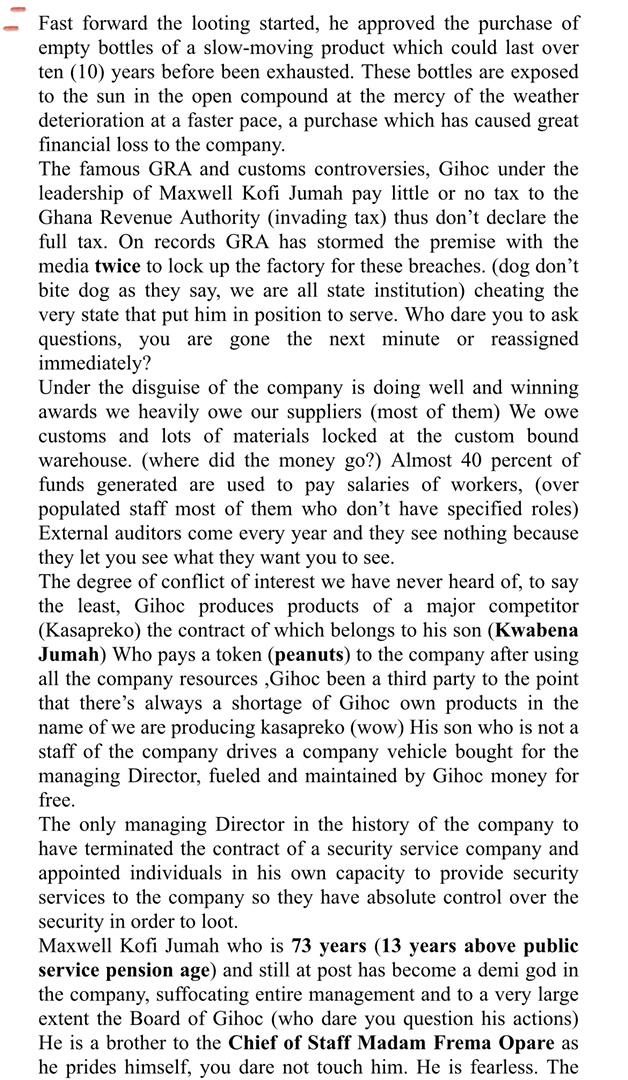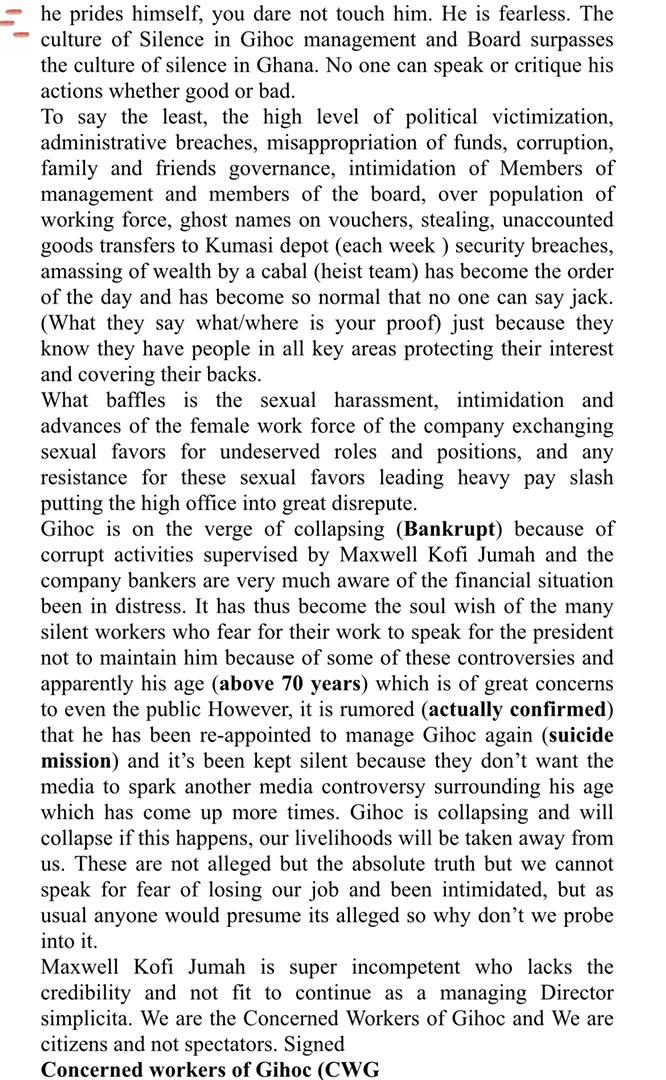 Source:Loud Silence News