A Community Mining pit believed to be owned by Mireku Duker who is the deputy Lands Minister and also MP for Tarkwa Nsuaem has caved in killing dozens and trapping hundreds under the ground.
The Community Mines was initially called "Ackoon Community Mines", and was later Changed to "Tarkwa Community Mines" after Mireku Duker the Member of Parliament for Tarkwa Nsuaem Constituency who doubles as the deputy Minister for Lands and Natural Resources took over from the Ackoon Community.
Some of the bodies are believed to be strangers from afar, and others are mashed beyond recognition.
The remains of those who died and have been retrieved have been sent to Apinto Government Hospital for autopsy and preservation while the search continues for the rest buried under the mine.
It's said that those who were underground on the morning the incident occurred were more than 40.
Hence after retrieving the 10 dead bodies, the rescue team says there's a big stone underground which if blasted, they can get the rest of the bodies that have been trapped underground.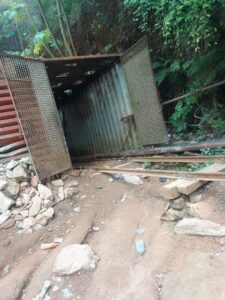 Further Details Coming Up on WADR