New registrants in the ongoing limited voter register have been attacked by NPP thugs in the Okaikoi North municipality in the Greater Accra region.
Sharing their ordeal, victims of the robbery attack said the incident happened in the early hours of Sunday 17th September 2023 when young Ghanaians were said to have queued to register for the voter card.
The thugs are said to be NPP invincible and delta force party boys acting on the instructions of the party Youth Organizer Salam Mustapha to cause mayhem at various registration Centers to deter the young registrants from registering.
According to a Joy News report, the thugs made away with various smartphones and money when they attacked registrants at the Okaikoi North EC district office.
They brutalised some registrants before absconding with the items they stole from them.
Salam Mustapha a few days ago shared a cryptic post on Facebook detailing that he had intel that there would be attacks on registrants at various registration Centers across the country.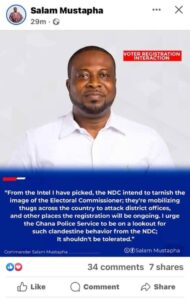 He however chose to post it on social media than report it to the Police.
Our source around him has confirmed that it's all part of the reverse psychology tactics the NPP is using.
They are unleashing their thugs to attack various registration Centers to put fear in young voters who just turned 18 to discourage them from registering and possibly voting the NPP out of Government.
The Jean Mensa led Electoral Commission against all wise counsel has refused to open up the registration Centers to all polling stations as it was done in the past but has resorted to asking people to mass up at district offices of the EC to register.
This is a clear plan to disenfranchise young registrants and also embark on a gerrymandering to favour the ruling NPP.
It is shocking that even in Greater Accra the Capital where this attack happened, at the time of the incident there was no police officer at the center.
If the Police and the CID are not in bed with the government then there's a need for the Police to invite Salam Mustapha for investigation.