Rapper Micheal Owusu Addo popularly known as Sarkodie has insulted Ghanaians who showed up at the Democracy Hub demonstration.
Sarkodie who came under serious scrutiny over his hypocrisy took to Twitter to subtly throw shots at persons who called on celebrities and known figures in Ghana to support the course of the demonstration.
Over the past 3 days, Ghanaian youth who believe the NPP government needs to exit power took to the streets in Accra to protest against the government over its terrible performance for the past 7 years.
With most of them appearing to n Black and Red and a series of placards, the Ghanaian youth made it a point to March to the seat of Government the Jubilee house in Accra.
This led to a standoff between the protesters and the Ghana Police service who early clandestinely went to court in a failed attempt to stop the demonstration.
The Ghana Police service arrested and brutalise several unarmed demonstrators on the streets of Accra including by passers who were not originally part of the procession towards the jubilee house.
This infuriated several Ghanaians who took to social media to call out the Government, the Police service and Ghanaian celebrities over their silent on the issue at hand.
Some of them reacted positively and began tweeting with the hashtags #OccupyJulorbiHouse.
Tribal Hypocrite like Sarkodie and his likes did not add their voice to the ongoing protest because that would have made their NPP government look bad in their eyes.
During the era of the NDC and John Mahama as President, Sarkodie won the notoriety of composing political songs to lash out at the government over its flaws.
However, he lost his voice under the NPP when the very thing he critiqued the NDC over in his songs became worse.
Find below Screenshot of his tweet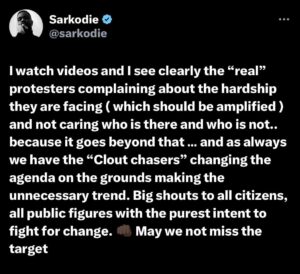 Before the 2020 elections, he released a couple of songs in which he endorsed the NPP and its continuity even in the face of the many scandals that have rocked the Akufo Addo Bawumia government. The hypocrisy of Sarkodie stinks and he clearly can't reason beyond his tribal ego.