Last Sunday 26th November 2022, Loud Silence Media had an interview with Ernest Nimako who was the former Personal Aide of Kingsley Agyemang the Executive Secretary of the National Scholarship Secretariat.
His interview formed part of an expose Loud Silence Media has been doing over the last few weeks.
In our findings, Kingsley Agyemang was caught on the web selling scholarships to Ghanaians to study abroad.
He was charging between 10,000 dollars 25,000 dollars for each scholarship he authorized.
Kevin Taylor, the host of With All Due Respect got in touch with a Ghanaian student currently abroad who admitted that indeed she paid 10,000 dollars to Ernest Nimako who was the Personal Aide of Kingsley Agyemang to be awarded the scholarship.
Ernest Nimako has since volunteered to speak to the issue, giving details about how his former boss Kingsley Agyemang consistently sent him to meet people to collect money on his behalf from them.
Some Ghanaians who were shocked about the Exposè took to their various social media handles to speak about the issue.
What has however come to our notice is that a Twitter user named Khan Boakye a concerned citizen shared the story on Twitter by crediting Ernest Nimako aka Shamoo as the source of the information.
Minutes after making the post, the Office of the Special Prosecutor contacted him(Khan Boakye) inviting him to their office to investigate the matter.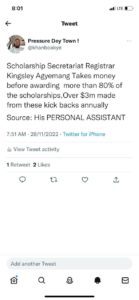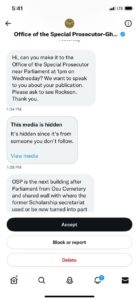 This is nothing but pure intimidation by the Special prosecutor.
Because the very source of the information was mentioned in the post as Ernest Agyemang and it was on Loud Silence Tv that Ernest made those revelations on.
If the Special Prosecutor is indeed looking for information to investigate the matter, why has he gone past the actual source to intimate a Citizen who only shared information and duly credited his source?
Why is he not contacting Kingsley Agyemang to answer questions on the many documents Loud Silence Media has shared over the last few weeks and even those that Ernest Nimako, Kingsley Agyemang's PA has put out?
The Special Prosecutor Kissi Agyebeng is proven to be a big disappointment to the office he occupies.
He leaves the pressing issues to focus on the trivial ones.