Yet to be confirmed coming to our desk at Loud Silence Media has it that embattled Broadcaster Captain Smart is considering putting his mansion at tantra hills for sale to relocate to United States With some threats from the government on his life.
Smart, who until today was the host of Accra based Angel Fm's morning show was asked to vacate his position for being critical of the government.
In a post made by Franklin Cudjoe, the decision of the Station's management was as a result of some pressure coming from the Akufo Addo led government for them to sack Captain Smart.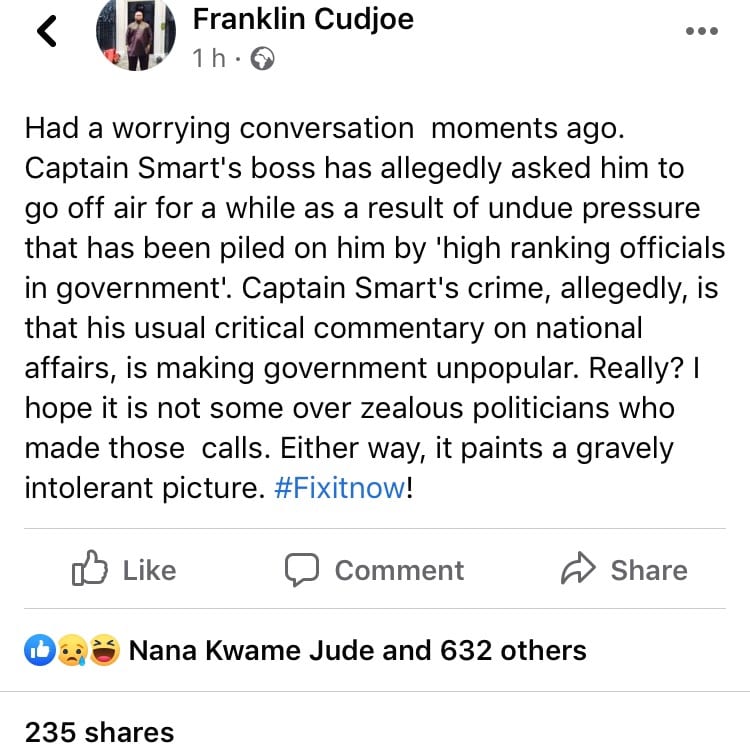 Between 2017 till date, journalists in Ghana have suffered many form of attack and threat on their lives for doing their job.
Manasseh Azure was hounded till he escaped while Ahmed Suale was Murdered in cold blood.
The issue of Akufo Addo led Government being vindictive has become a big cause of concern in the country with many getting scared to voice out their feelings about his failed leadership.
For now, we are yet to confirm our checks to see if indeed Captain Smart is going to relocate to the USA in the coming days
Check out the house of Captain Smart below