[ad_1]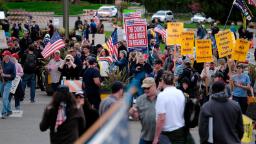 Starting today, students in Australia's Northern Territory are expected to physically attend school.
What's going on in the Northern Territory? The vast, sparsely populated federal territory in the north of the country has only reported 28 coronavirus cases, according to the government. Eleven patients have recovered. Meanwhile, the territory has performed more than 3,600 tests to date.
It is the only Australian state or territory to report no Covid-19-related deaths, according to data provided by Australia's Department of Health.
Currently, the territory requires all non-essential travelers entering the border to complete 14 days of quarantine. The government is advising that, as a general rule, people should stay home unless it is absolutely necessary to go out.
The Northern Territory is home to about 229,000 people — and to one of Australia's most iconic landmarks, Uluru. About 25% of the territory's population are indigenous Australians — nationwide, indigenous Australians people make up around 2.8% of the population.
Indigenous Australians often have lower education, health and employment outcomes than the rest of the population, prompting the government to roll out additional support for indigenous businesses amid the pandemic.
What measures are in place for students? Schools are to consider moving classes outside, reconsider school excursions, and encourage the avoidance of handshakes, hugs, kissing, and games that include holding hands, according to the Northern Territory's Department of Education.