[ad_1]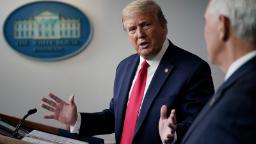 Trump also continued to embellish about House Speaker Nancy Pelosi's February 24 visit to San Francisco's Chinatown, inaccurately saying that she had held a Chinatown "rally." He continued to insist that his travel restrictions on China were a "ban," though they contained significant exemptions. And he threw in an old false claim about Michelle Obama for good measure.
Trump bragged about the level of coronavirus testing in the US and played down criticism from medical professionals that there still isn't enough testing to get a handle of the pandemic.
"Ultimately, we're doing more testing, I think, than probably any of the governors even want," Trump said, suggesting that his administration was leading the way on coronavirus testing.
Trump later said that "not everybody believes as strongly as some people on testing." And suggesting that calls for more testing are some sort of partisan plot, he claimed that "some people want (us) to do testing because they think it's impossible for us to fulfill that goal."
Facts First: Trump is off the mark. There have been bipartisan calls from governors and medical professionals for the Trump administration to ramp up testing and give states the supplies they need to get it done. There is no evidence that calls for more tests are some sort of anti-Trump plot; nonpartisan public health experts have said it's critical for the government to significantly increase the level of testing as part of any plan to end social distancing and lift economic restrictions.
Travel restrictions
During Wednesday's press briefing, Trump repeated a false claim he's made numerous times about the travel restrictions imposed on China due to the coronavirus.
He once again described the restrictions as a "ban" and claimed that "if we didn't close our country to China, we would have been so infected like nobody's ever seen."
Michelle Obama and the Georgia governors race
Despite publicly disagreeing with Georgia Gov. Brian Kemp's decision to open up businesses such as barbershops and tattoo parlors, Trump reiterated his past support for the governor. He compared his efforts to get Kemp elected with those of Democrats, erroneously claiming that Michelle Obama joined her husband in campaigning for Kemp's opponent.
"As you know, Brian Kemp, governor of Georgia, I worked very hard for his election, he beat their superstar, he beat the superstar of their party. I think you can say I helped a lot," Trump said, "Michelle Obama, Barack Obama, Oprah Winfrey they all went in, they campaigned for him very, very hard and he lost."
Facts First: Michelle Obama did not campaign for either of Kemp's opponents. Kemp beat Republican Lt. Gov. Casey Cagle, a man, in the primary and Democratic candidate Stacey Abrams, a woman, in the general election.
Pelosi's Chinatown visit
Trump again exaggerated about Pelosi's visit to San Francisco's Chinatown on February 24, this time claiming Pelosi was having a "rally in San Francisco, in Chinatown."