Kevin Taylor has responded heavily to claims made by Member of Parliament for Ningo Prampram that former Special Prosecutor Martin Amidu needs mental assessment.
In what could be said to be be basis for the whole brouhaha, Mr Sam George as a guest on Ghone Tv was reaction to claim made by Martin Amidu that Akufo Addo used the double salary issue against some Ndc MPs as a ransom for them to pass his ministers.
In his recent epistle, Mr Amidu who himself was the former Special Prosecutor but had to resign over what he described is an attempt by Nana Akufo Addo to turn him into his poodle said, the Ndc members of the vetting Committee in parliament were made to pass the ministers of the Akufo Addo led government with the treat that failure to do so will let him(Akufo Addo) prosecute them on some issues of some members of parliament taking double salaries.
Mr. Sam George on Ghone said, Mental health issues should be taking serious and that it's a wild figmentation on the part of Martin Amidu to assume an issue which happened in 2017-20-8 would be used as a clause for Ndc MPs to pass the appointed Npp ministers. As such Mr Amidu literally was "Mad".
Speaking on With All Due Respect, Kevin Taylor said Sam George's Comment was crazy and lacks the tone as a member of parliament.
Kevin Taylor added that, Sam George should have applied wisdom because Martin Amidu was never stupid to have made such claims and to rubbish such a serious issue on grounds that Mr Amidu is "Mad" is an insult to his constituents and Ghanaians who expect the minority to hold the government accountable and not become accomplices in their dealings.
"You Sam George, you sit on Tv and claim Amidu is mad. What do you know and where have you gotten to in politics ?"
When Amidu was making waves in Ghana's politics you were probably a teenager, today because you are an MP you stupidly claim someone who has more integrity than you is mad.
Meanwhile, every claim Amidu made in his epistle is yet to be disputed by anyone with contracting facts. You are among the people making the Ndc looks stupid." Mr Taylor said
However, in a Facebook post made by Sam George as course of the Program, Sam George ladled Kevin Taylor as a "loose canon" further saying Mr Taylor should know which fight to pick because he is never a pushover.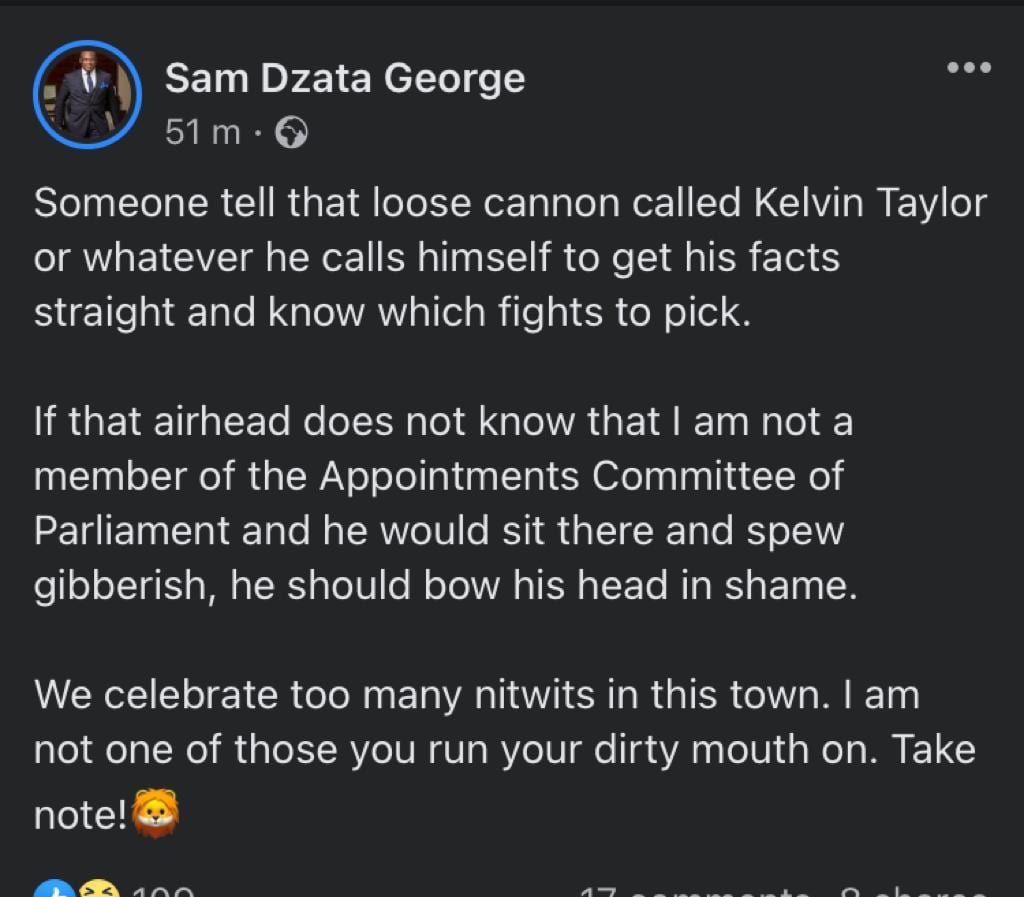 Mr. Taylor equally responded that, Sam George is clueless and crazy because if anyone needs mental assessment then it is him and his colleagues on the Ndc bench on parliament who watched on for persons like Hawa Koomson to be approved as ministers.
Sam George, even though is not part of the vetting committee before the vetting began weeks ago told Ndc footsoldiers who expressed worry over the conduct of their members of parliament that if they were never satisfied with the works of the Ndc MPs in parliament, they should also pick forms to become MPs.