[ad_1]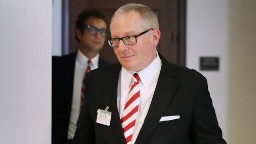 WARNING: This story contains graphic language.
While he occasionally weighed in with praise for public officials or more straightforward observations, tweets from this period are also littered with conspiracy theories and controversial language to go after perceived critics of the Trump administration.
In a series of tweets on March 12, Caputo responded to a baseless conspiracy theory that the United States brought the coronavirus to Wuhan, China, by tweeting that "millions of Chinese suck the blood out of rabid bats as an appetizer and eat the ass out of anteaters."
He followed up at another user, "Don't you have a bat to eat?" and tweeted at another user, "You're very convincing, Wang."
Caputo told CNN during a phone call after publication that he has "been a defender of the President in this spirited manner."
"I'm now a servant of the American people and some might be disappointed, but my tweets will be different," he said.
"When you tweet in spirited fashion, KFile is going to have them. I've known that all my days. So I don't mind what you've done. I find it fair game," Caputo said
Spokespeople for HHS did not respond to requests for comment. A spokesperson for the White House declined to comment.
Caputo also used his Twitter account to aggressively attack Democrats and the media.
In March, he referred to one White House reporter as "a dick" after that reporter had a heated exchange with the President. He said many Americans viewed reporters as "the enemy of the people" for "carrying water for the Chinese Communist Party." He implied that MSNBC host Joe Scarborough was guilty of sedition.
"Coronavirus is the Democrats' new Russia, their new Ukraine. And nobody will believe them except their zombies. But know this: The Dems' strategy to defeat @realDonaldTrump requires 100s of thousands of American deaths. Will one of their nutjobs make it happen, a la Hodgkinson?"
That same day, Caputo retweeted conservative actor Nick Searcy saying, "Democrats are pulling for the virus to kill a lot of people."
In other tweets from March, Caputo claimed the media created "intentional" panic created around the outbreak, saying it was "orchestrated by soulless Trump critics who seize every crisis as an opportunity to stop him."
Caputo was also interviewed by Mueller prosecutors and testified before Congress, and adamantly denied there was collusion between the Trump campaign and Russia.
Here are some of Caputo's deleted tweets pertaining to the unfolding health crisis in the United States:
He follows up, "Of course he has" — in response to Trump being proactive. "This Democrat strategy, echoed by their conjugal media, will fail. Hoping your country fails and hundreds of thousands die so you can gain power is a sick and twisted strategy. America will punish them."
Goldman had tested positive for coronavirus and had tweeted, "One final note: I may be the first you know who tested positive, but I won't be the last. Let's take care of each other, listen to the experts and the cities, states and corporations who are taking the lead in the absence of the fed government, and get through this together. END."
"Saying the intentional media panic doesn't exist is dishonest. Saying everything in this crisis transpires because of intentional media panic is also dishonest," writes Caputo.
Rothschild told CNN he is not related to the banking family, which is frequently the target of anti-Semitic conspiracies.
Scarborough told CNN in an email, "I'm more interested in what the assistant Secretary does in the future than what he may have tweeted about me in the past. We're facing difficult times ahead and I am hopeful that the president's entire team will simply follow the lead of Dr. Fauci and Dr. Birx and keep America's seniors safe."
Hayden told CNN in an email, "Michael Caputo fits right in to this administration. He is a typical Trump thug. By the way, I never replied to his tweet but this now seems like the appropriate time to point out that he will not be a 'normal American' doing the right thing in any position in this administration."
"How many Americans must die to feed Democrat powerlust? 100K? 1M? More??," Caputo added. "How much economic destruction is the Democrat goal? 100% unemployment?'"
He was appointed to his position at HHS just two weeks later.
This story has been updated with a comment from Caputo.