[ad_1]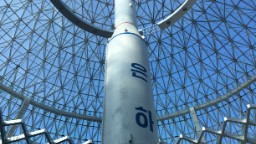 North Korea signs the Nuclear Non-Proliferation Treaty (NPT).
The International Atomic Energy Agency (IAEA)
demands that inspectors be given access to two nuclear waste storage sites. In response, North Korea threatens to quit the NPT but eventually opts to continue participating in the treaty.
1994
North Korea and the United States sign an agreement. North Korea pledges to freeze and eventually dismantle its old, graphite-moderated nuclear reactors in exchange for international aid to build two new light-water nuclear reactors.
2002
October – The Bush Administration reveals that North Korea has admitted operating a secret nuclear weapons program in violation of the 1994 agreement.
2003
February – The United States confirms North Korea has reactivated a five-megawatt nuclear reactor at its Yongbyon facility, capable of producing plutonium for weapons.
April – Declares it has nuclear weapons.
2005
2006
2007
February 13 – North Korea agrees to close its main nuclear reactor in exchange for an aid package worth $400 million.
September 30 – At six-party talks in Beijing, North Korea signs an agreement stating it will begin disabling its nuclear weapons facilities.
December 31 – North Korea misses the deadline to disable its weapons facilities.
2008
2009
June 12 – The UN Security Council condemns the nuclear test and imposes new sanctions.
2010
2011
2012
2013
2014
2015
2016
2017
2018
2019
2020