[ad_1]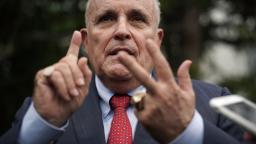 Ingraham: Michael Bloomberg is gonna handle the tracing, army of tracers in NY we learned today from [New York Gov. Andrew] Cuomo.
Giuliani: That's totally ridiculous.
Ingraham: The army of tracers.
Giuliani: Then we should trace everybody for cancer.
Ingraham: Yeah, army of tracers.
Giuliani: We should trace everybody for cancer, and heart disease. And obesity. I mean, a lot of things kill you more than Covid-19. So, we should be traced for all those things. I mean life possesses a certain degree of risk.
Ah ha ha ha ha … wait, what????
My guess is that what Giuliani and Ingraham were going for was a mockery of a nanny state — that people would be tasked with watching everyone else to ensure that the virus didn't spread. Which isn't how contact tracing works at all. But whatever.
Which is, again, according to doctors and infectious disease experts, exactly what we need to ramp up to deal with a second possible outbreak.