[ad_1]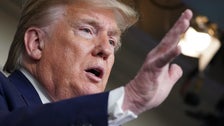 President Donald Trump let loose a tirade on Twitter Friday morning that included spreading misinformation and seemingly undermined the social distancing advice given by the health experts on the White House coronavirus task force.
His targets included the Obama administration and its vice president, Joe Biden, who's also the presumptive Democratic presidential nominee this year, as well New York Gov. Andrew Cuomo (D).
While Trump has used his Twitter account to urge Americans to follow the guidance of health officials on the White House's coronavirus task force, his Friday rant shows how he also uses the platform to lash out at others and sow discontent. 
Here's what Trump said:
He inflated the number of deaths due to the swine flu pandemic.
As he has done periodically, he targeted former President Barack Obama and Biden for criticism over how they dealt with a previous health crisis. He tweeted that "Biden/Obama were a disaster" in their handling of the spread of the H1N1 virus, also known as the swine flu pandemic.
In his latest attack, Trump falsely claimed that 17,000 died during that pandemic, which lasted between April 2009 to April 2010. On March 4, Trump told Fox News that the death toll for the swine flu was "over 13,000" while also pointing out that the conservative news network had suggested it was 17,000.
However, the Centers for Disease Control and Prevention reported that the number of deaths in the U.S. during that outbreak was 12,469. The CDC also estimates that 75,000 people died from the swine flu worldwide.
Dr. Anthony Fauci, the Trump administration's top infectious disease expert, has warned people against comparing COVID-19 to H1N1, telling Fox News in early March that the swine flu was "less lethal than the regular seasonal flu."
Biden/Obama were a disaster in handling the H1N1 Swine Flu. Polling at the time showed disastrous approval numbers. 17,000 people died unnecessarily and through incompetence! Also, don't forget their 5 Billion Dollar Obamacare website that should have cost close to nothing!

— Donald J. Trump (@realDonaldTrump) April 17, 2020
Trump called for states to be liberated, but didn't explain what he meant. 
In a series of three tweets sent out in the late morning, Trump demanded the liberation of Minnesota, Michigan and Virginia.
Trump didn't explain what he meant by "liberate" in the tweets, but all three have seen residents take to the streets to express discontent with stay-at-home orders and their state governments' decision to close nonessential businesses. The protestors in many cases have ignored the social distancing that health officials have said is essential to help stem the coronavirus pandemic.
Trump's tweets, by lacking any explanation or context, may provide encouragement to the protestors and could fuel future gatherings.
Michigan, Minnesota and Virginia all have Democratic governors and they are likely battlegrounds in November's presidential election.
Trump also suggested that Virginia's 2nd Amendment rights have been threatened; he offered a similar warning in January after Democrats took control of the state legislature.
Fauci and Dr. Debra Birx, another member of the White House task force, have reiterated numerous times that life in the U.S. will be considerably different as long as no vaccine is available to combat COVID-19, the disease caused by the coronavirus.
Both officials urged Americans to continue social distancing and warned state officials against lifting restrictions too soon.
As pointed out by Vox journalist Aaron Rupar, a Fox News segment featuring protests in Minnesota aired two minutes before Trump's "liberate" tweets.
Trump carried on his feud with Cuomo.
Trump targeted Cuomo as the governor was conducting his daily press briefing on Friday, during which he criticized the president for urging states to open up their economies without assisting them with the widespread testing that heath officials agree is needed better understand and deal with the scope of the pandemic.
"The federal government cannot wipe its hands of this and say, 'Oh, the states are responsible for testing.' We cannot do it. We cannot do it without federal help," Cuomo said.
Soon after, Trump in his tweet said Cuomo should "spend more time 'doing' and less time 'complaining'. Get out there and get the job done. Stop talking!"
The testing issue is especially key for New York, which has been the nation's epicenter of the coronavirus outbreak and had by far the highest number of deaths linked to it ― 12,199 as of Friday afternoon. That number includes probable deaths from patients who could not be tested for the virus.
Governor Cuomo should spend more time "doing" and less time "complaining". Get out there and get the job done. Stop talking! We built you thousands of hospital beds that you didn't need or use, gave large numbers of Ventilators that you should have had, and helped you with….

— Donald J. Trump (@realDonaldTrump) April 17, 2020
….testing that you should be doing. We have given New York far more money, help and equipment than any other state, by far, & these great men & women who did the job never hear you say thanks. Your numbers are not good. Less talk and more action!

— Donald J. Trump (@realDonaldTrump) April 17, 2020
Cuomo ridiculously wanted "40 thousand Ventilators". We gave him a small fraction of that number, and it was plenty. State should have had them in stockpile!

— Donald J. Trump (@realDonaldTrump) April 17, 2020
Cuomo, asked about Trump's tweets as his briefing was ongoing, was quick to respond. "First of all, if he's sitting at home watching TV, maybe he should get up and go to work, right?" he said. "Second, let's keep emotion and politics out of this and personal ego, if we can, because this is about the people, and it's about our job, and let's try to focus on that."
A HuffPost Guide To Coronavirus