[ad_1]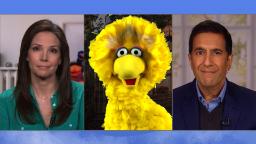 Doctor answers questions from kids
Dr. Leana Wen answers questions from children all over the world about what the coronavirus is and how they can stay safe.
Face masks and hand washing with Elmo
Dr. Sanjay Gupta explains to Elmo why face masks and proper hand washing are helpful to stop the spread of coronavirus.
Dealing with big feelings
Abby Cadabby, Grover and Rosita share how they deal with the big emotions that come with the coronavirus pandemic.
How to handle spending so much time at home
Dr. Sanjay Gupta speaks with an elementary school principal about what kids can do to stay focused on their schoolwork while learning from home.
Helping kids cope with loss
Big Bird helps explain to children why it is sad to lose a loved one but that it is important to remember them.
Tips for staying healthy
Cookie Monster helps kids make healthy choices about eating while staying at home during the coronavirus pandemic.