[ad_1]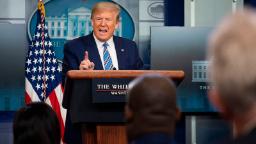 Trump falsely claimed, again, that he "inherited" a defective coronavirus test; the faulty test was developed this year. He falsely claimed, again, that "nobody ever thought" there would be a crisis like this; there were years of warnings. And he falsely claimed, again, that his travel restrictions on China and Europe, for which he exempted large groups of travelers, amounted to a complete "ban."
Trump also claimed that all of the people protesting against pandemic restrictions have stood six feet apart from each other. Some have not. And he claimed that a critical component of coronavirus tests, the reagent, is "so easy to get," though governors from both parties and public health officials in multiple states say it is not.
Here's a roundup of the claims and facts.
Trump was asked about governors who say they cannot get a hold of a sufficient quantity of chemicals known as reagents, which are needed to conduct coronavirus tests. He responded, "We're in great shape. It's so easy to get."
Facts First: Trump might perhaps have meant that reagents are easy for the federal government to get. But it's simply not true that they are "easy to get" for states or for laboratories. Governors from both parties have said in the past week they are having difficulty obtaining them.
Democratic Michigan Gov. Gretchen Whitmer said on the same program: "Well, right now, I can tell you, we could double or even triple the number of tests that we're executing daily if we had the swabs and reagents."
Protesters stood 'six feet apart'
The president defended protests against stay-at-home orders in states across the country, saying that those who participated were "all six feet apart" as recommended by the CDC's social distancing guidelines. Trump also seemed to offer words of encouragement to the protesters.
"If people feel that way, you're allowed to protest," President Trump said. "I watched the protest, and they were all six-feet apart. I mean it was a very orderly group of people. And but … you know, some have gone too far, some governors have gone too far. Some of the things that have happened are maybe not so appropriate."
He continued, "As far as protesters, you know, I see protesters for all sorts of things. And I'm with everybody. I'm with everybody."
Facts first: Protesters gathered in several state capitals this week to voice their opposition to stay-at-home orders issued by governors to slow the spread of the novel coronavirus. But while some sought to adhere to social distancing rules by staying in their cars, other protesters crowded together in contravention of those guidelines.
One attendee even told CNN affiliate WILX, "I think every single person here is probably going to get coronavirus, we're all within six feet of each other."
Travel restrictions
The President responded to questions regarding criticism of his administration's slow response to the coronavirus by touting travel restrictions he announced at the end of January and in mid-March. In a heated exchange with CBS News White House Correspondent Weijia Jiang, Trump said "I did a ban, where I'm closing up the entire country." Trump referred to these restrictions on travel from China and parts of Europe as "bans" multiple times throughout the briefing.
Facts First: Trump did not close up the entire country. It's also misleading to call the travel restrictions Trump announced against China and Europe a ban because they contained multiple exemptions. Only foreign nationals who had been in China, Europe's Schengen area, the UK or Ireland within the past 14 days are outright banned from entering the US.
The restrictions also did not apply to US citizens returning from Europe as well as permanent US residents and certain family members of both citizens and permanent residents.
Nobody could have seen this coming
While discussing the impact coronavirus has had around the world, Trump said, "nobody ever thought this could have happened, a thing like this," in reference to the coronavirus pandemic.
Facts First: Public health and national security officials have been warning for years of the potential dangers of a pandemic, including Trump's very own health and human services secretary, Alex Azar, who said in 2019 that the threat of a pandemic flu kept him up at night.
Dr. David Morens, a top National Institutes of Health official, specifically noted in October 2018 that there would not be enough room in hospitals in the case of a pandemic like the 1918 flu. Morens also said that while the total number of items like drugs, antibiotics, antivirals and ventilators in the US national stockpile is unknown, "what I do know is it's not nearly enough."
"Inherited" tests
Speaking about testing for the coronavirus, Trump said, "Look, I told you, we inherited a lot of garbage." He added, "We took — they had tests that were no good. They had — all the stuff was no good. It came from somewhere, so whoever came up with it. But I'm proud to tell you that now we went from having a lot of bad things happening in CDC to having great things happening."
Facts First: Since this is a new virus that was first identified nearly three years into Trump's presidency, the bad tests couldn't possibly be "inherited." In fact, the faulty initial test for the coronavirus from the Centers for Disease Control and Prevention was created during Trump's administration in early 2020.
"He is lying. He is lying 100%. He is lying because he is trying to shift blame to others, even if the attempt is totally nonsensical," Gregg Gonsalves, an assistant professor in the Department of Epidemiology of Microbial Diseases at the Yale School of Public Health, said of an earlier version of this Trump claim.
The claim "doesn't make sense because it is false," Tara Smith, an epidemiology professor at Kent State University, said of an earlier version. "This is a new virus."
Michael Mina, assistant professor of epidemiology at Harvard T.H. Chan School of Public Health, called an earlier version of the claim "absurd" given that "this virus did not exist in the prior administration."