[ad_1]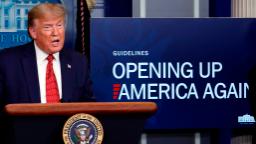 Trump also repeated his incorrect suggestion that he has the power to decide when governors lift their pandemic-related restrictions. And he argued that "people should have told us" about the virus, omitting the fact that he continued to downplay the virus for weeks after public warnings.
We fact checked these items below.
As part of the administration's three-phase recommendation for re-opening the country, Trump said some states could be ready to enter phase one of the reopening process as soon as Friday because, when it comes to coronavirus, "you have states without any problem." He added that some states are "at a point where there is almost nothing" in terms of coronavirus cases, and that "you have states with few cases and those few cases have healed."
Facts First: It's not true that some states currently don't have "any problem" related to coronavirus. At the time the President spoke, all 50 states each had more than 200 confirmed cases, and 41 states have more than 1,000 confirmed cases. There is no definitive state-by-state data on how many infected people have recovered.
The President's powers
Trump said of state governors: "If they need to remain closed, we will allow them to do that. And if they believe it is time to reopen, we will provide them the freedom and guidance to accomplish that task, and very, very quickly, depending on what they want to do."
Facts First: State governors already have the power to decide that they need to maintain their coronavirus restrictions, legal scholars say. It is not up to the President to "allow them to do that."
People should've told us
The President again expressed frustration that coronavirus warnings "should have been told to us a lot sooner."
"I was angry, because this should have been told to us. It should have been told to us early. It should have been told to us a lot sooner," Trump said. "People knew it was happening, and people didn't want to talk about it. I don't know why. But we're going to get to the bottom of it."
When pressed about whether he meant China, Trump deflected: "I'm not saying anything. I'm saying people should have told us about this. They should have told the rest of the world, too."
Facts First: Trump did not go into detail about who he is referring to here, but Trump's comments are misleading because they ignore repeated warnings Trump received from sources, including the World Health Organization, the US intelligence community and even his own advisers. And while the WHO has faced its own share of criticism for its coronavirus response (and there are legitimate questions about China's handling of the pandemic as well), it is worth noting that Trump continued to downplay the pandemic even after such warnings were clear.