[ad_1]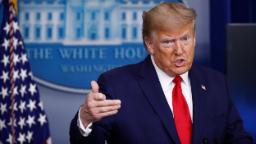 Trump continued to be dishonest on the critical subject of coronavirus testing, wrongly claiming he "inherited" faulty tests — they were developed this year, during his presidency — and painting an overly rosy picture of the US testing situation.
He also repeated several of the false claims he likes to make at his campaign rallies.
Here's a rundown of the claims and the facts.
Governors and testing
Trump continued to favorably compare the coronavirus testing situation in the US to the situation in other countries. He alleged that Democratic governors are deliberately not using testing capacity the federal government has created — and suggested that the only governors "complaining" about testing challenges are Democrats.
"Now they're giving you the other — it's called 'testing, testing.' But they don't want to use all of the capacity that we've created. We have tremendous capacity … they know that, the governors know that. The Democrat governors know that. They're the ones that are complaining," he said.
Facts First: There is no evidence that any governor is deliberately not using available testing capacity. And it's not only Democratic governors who have spoken of problems and challenges with testing. Governors from both parties, and public health officials around the country, have warned that they are still unable to do the amount of testing needed to safely lift social and economic restrictions.
Democratic governors are expressing concerns similar to those of their Republican colleagues.
No one saw this coming
During the briefing Saturday afternoon, Trump repeated one of his go-to falsehoods that he often uses to defend his administration's fumbled response to the coronavirus pandemic.
"In speaking to the leaders of other countries this morning, they said this is incredible the way you've done this so quickly," Trump said, without naming any foreign officials. "You know, we're only talking about a few weeks since everybody knew this was such a big problem."
Facts First: Trump is on an island with this one. Not only have there been multiple warnings about America's vulnerability to a pandemic over the past few years, but Trump's own government issued numerous warnings since the beginning of this year about the potential severity of the coronavirus.
The virus emerged in China in December.
The "cupboard" of medical supplies
At Saturday's briefing, President Trump repeated his claim that he inherited a "bare cupboard" of medical supplies to fight coronavirus from the Obama administration.
"We started off with a broken system. We inherited a broken, terrible system. And I always say it, our cupboards were bare. We had very little in our stockpile. Now we're loaded up."
Facts First: Trump's argument has some truth to it, but it's also somewhat misleading. While Trump isn't wrong to suggest he inherited a depleted stockpile of some medical supplies — the stockpile of masks, for example, was depleted and not replenished by the Obama administration — the cupboards were not completely "bare"; he inherited significant quantities of other supplies. And Trump had three years in office to build depleted stockpiles back up.
The Strategic National Stockpile was not empty before the coronavirus pandemic. For example, the stockpile contains enough smallpox vaccines for every American, among other medical resources. However, critical supplies that could be used to combat coronavirus were drained and not replenished.
Ultimately, Trump ignored the warnings of experts and failed to restock masks and prepare other supplies to fight a potential pandemic.
"Broken Junk"
Facts First: The faulty initial test for the coronavirus was created during Trump's administration in early 2020 by the Centers for Disease Control and Prevention. Since this is a new virus that was first identified this year, the bad tests couldn't possibly be "inherited."
"He is lying. He is lying 100%. He is lying because he is trying to shift blame to others, even if the attempt is totally nonsensical," Gregg Gonsalves, an assistant professor in the Department of Epidemiology of Microbial Diseases at the Yale School of Public Health, said of an earlier version of this Trump claim.
The claim "doesn't make sense because it is false," Tara Smith, an epidemiology professor at Kent State University, said of an earlier version. "This is a new virus."
Michael Mina, assistant professor of epidemiology at Harvard T.H. Chan School of Public Health, called an earlier version of the claim "absurd" given that "this virus did not exist in the prior administration."
"No Ammunition"
In addition to claiming President Obama left him with a depleted stockpile of medical supplies, Trump said Obama left him with "no ammunition."
"If you remember when I first came in, we didn't have ammunition," Trump said. "Not a good way to fight a war. President Obama left us no ammunition, OK."
Facts First: It's not true that the US had "no ammunition" at the beginning of Trump's presidency. Rather, according to the public comments of military leaders, there was a shortfall in certain kinds of munitions, particularly precision-guided bombs, late in the Obama presidency and early in the Trump presidency.
Iranian payments and other repeated false claims
Trump also repeated several other falsehoods he's made in the past on topics unrelated to the pandemic.
He claimed that as part of the Iran nuclear deal, the US agreed to give Iran $150 billion dollars.
He also doubled-down on the idea that China is providing the US several billion dollars in tariffs, arguing that the Chinese, not Americans, are paying the tariffs on imported Chinese products.
Trump also alleged that President Obama wanted a relationship with the North Korean leader but that Kim Jong Un refused to meet with him.