[ad_1]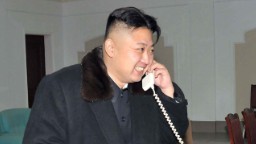 Birth date: January 8 (Widely believed to be in his early 30s, though birth year is publicly unavailable.)
Education: Kim Il Sung Military Academy, 2002-2007
Other Facts
Timeline
April 2009 – Named to North Korea's National Defense Commission.
October 9, 2010 – Kim Jong Nam, eldest son of Kim Jong Il, tells Japan's TV Asahi that he opposes the hereditary transfer of power for a third generation. These are his first comments since the promotion of Kim Jong Un, his half-brother.
December 17, 2011 – Kim Jong Il dies at the age of 69.
December 28, 2011 – Accompanies the body of Kim Jong Il during the funeral procession through Pyongyang.
December 31, 2011 – Assumes command of the North Korean army. State-run Korean Central News Agency reports that the power was transferred to him on October 8 at the behest of his father.
April 15, 2012 – Speaks before hundreds of troops and others in Pyongyang as part of a celebration marking 100 years since the birth of the nation's founder, Kim Il Sung, his grandfather. Kim's address is his first televised speech since assuming the country's leadership.
June 6, 2012 – Makes his second public speech, speaking to tens of thousands of children in Pyongyang on the 66th anniversary of the Korean Children's Union. His father, Kim Jong Il, is believed to have made only one brief broadcast throughout his reign.
July 18, 2012 – Kim is given the title marshal of the army. It is the latest in a string of moves to reconfigure the top ranks of North Korea's military. The announcement follows the removal of the army chief, Ri Yong Ho.
September 8, 2013 – Upon returning from his second trip to North Korea, Rodman says he held "baby Ju Ae" and describes Kim as "a good dad."
March 9, 2014 – Kim is unanimously elected as Deputy to the Supreme People's Assembly (SPA) of the DPRK, with a reported 100% turnout.