Ghana is sitting on a time bomb and if citizens and those who matter do not act, the whole country will go down into flames before 2024.
Knowing the crimes they have committed and the diabolical agendas they have championed, Akufo Addo and his blood-sucking appointees are not willing to leave power.
You will recall President Akufo Addo has sworn that he will hand over power to only an NPP Government.
His director of operations at the Presidency Lord Commey in a video this year at the Greater Accra regional conference of the NPP vowed the NPP is never going to hand over power to the NDC even when they lose the election 2024.
In line with this agenda, mercenaries have been brought to Ghana from French-speaking countries like Ivory Coast, Togo, and Niger to help destabilize Ghana even before 2024.
Numbering about 250, these mercenaries are being kept at Accra City Hotel and Holiday Inn Hotel all in Accra just a few meters away from where the Octagon building is in Accra.
For those who drive around the aforementioned areas within Accra, you are likely to see an enhanced security presence in this particular location.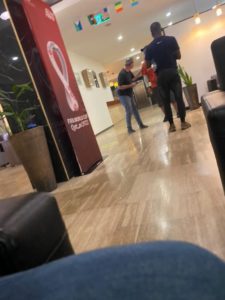 As we speak, these two hotels are technically not available to the general public due to what it is being used for at the moment.
It is a well-calculated operation Akufo Addo is championing to hold onto power for the NPP.
However, there is a building between the Movenpick hotel and the Publishers building belonging to the Government of Ghana, it's a security installation, and that is where the ammunition used in training these killing machines are being kept.
They have been training at the Asutuare training center in how to handle all kinds of weapons to unleash terror on Ghanaians.
DCOP Asare, a Police officer stationed at the jubilee house who is very fluent in French is in charge of this operation at the Jubilee house.
Outside the Jubilee House, a Member of Parliament for Assin Central and Chairman of the Security Committee in parliament Kennedy Agyapong is in charge of these men.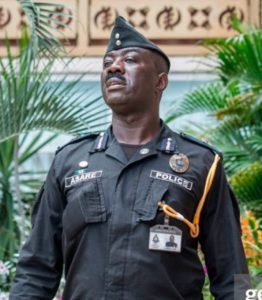 Yesterday 31st October 2022, a dark green container full of weapons was cleared from the Tema port under a heavily armed police and military patrol team and was moved from the port straight to the jubilee house.
Those are the weapon that will be given to these mercenaries to unleash terror on Ghanaians after they are done with their training.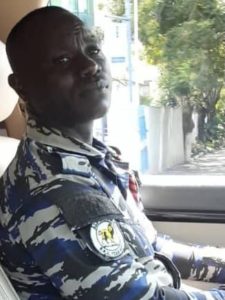 The container is currently under strict supervision inside the Jubilee House, the official residence and office of the President.
It is just a few meters away from where the jubilee house clinic as shown in the attached video.
Contain full of Guns at Jubilee House
These 250 members have been issued, Ghana cards just to create the impression they are Ghanaians but in real terms, they are not.
In-room A14 inside the Jubilee house, about a thousand T-Shirt of Former President John Mahama have been printed with NDC colours.
The ploy of Akufo Addo, Kennedy Agyapong, and the NPP is that, once these mercenaries are trained, they will send them out with these guns currently in the container at Jubilee house into markets and other public spaces to shoot at Ghanaians wearing these NDC printed shirts.
This will result in chaos and the government with the help of their recruited media men will pin the whole happening on the opposition NDC as those who brought these rebels into the country.
President Akufo Addo in response will declare a state of emergency and political opponents from the NDC and other few critical voices will be targeted by executing them secretly under gruesome circumstances.
What is coming is scary as this is just part one of what we have uncovered.